$200 Barnes & Noble Gift Card Giveaway Plus 17 Bestselling & Award-Winning YA Books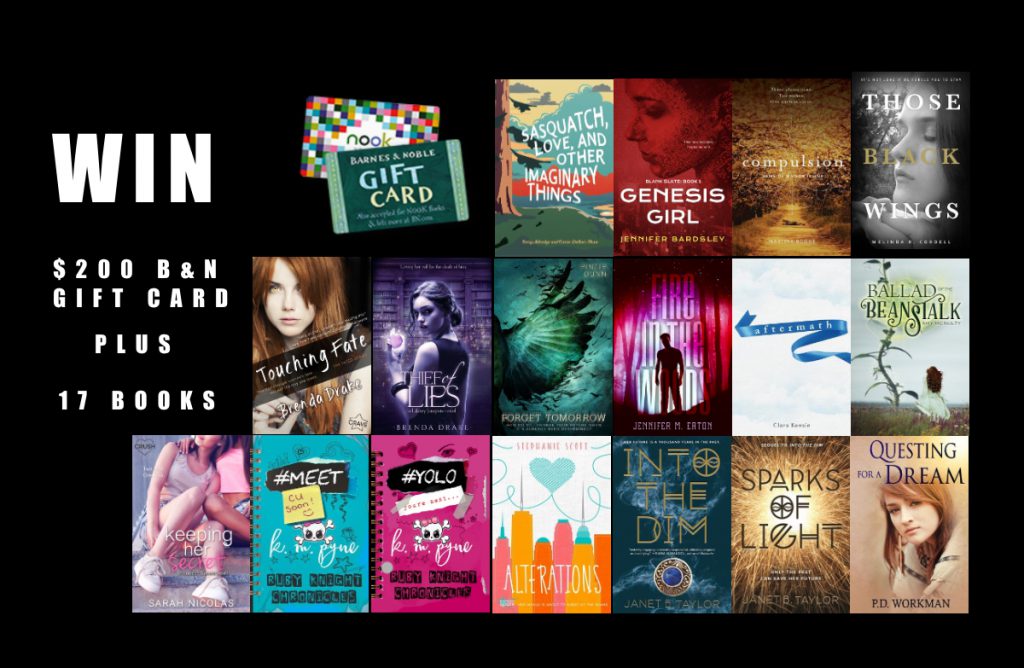 It's YA reader appreciation time! We authors DO love our readers, so a bunch of us are getting together for a fantastic reader appreciation giveaway. Win a $200 Barnes & Noble gift card to use on your Nook or to purchase physical books, PLUS win a library of books from best-selling, award-winning, and stellar break-out young adult authors.
Here are the books included:
Betsy Aldredge and Carrie DuBois-Shaw, Sasquatch, Love, and Other Imaginary Things: Pride and Prejudice meets Animal Planet's Finding Bigfoot in this humorous and heartfelt debut about a loving, quirky family on the hunt for the mythical Sasquatch.
Jennifer Bardsley, Genesis Girl: Blanca's lack of a digital footprint makes her so valuable that she gets auctioned off to the highest bidder.
Martina Boone, Compulsion: A girl with a gift for finding lost things discovers romance, secrets, and danger in the magical garden of her family's three-hundred-year-old South Carolina plantation.
Melinda R. Cordell, Those Black Wings: Kay is your typical shy gal who runs screaming from love — until she finds herself way over her head in a relationship. It's not love if he forces you to stay.
Brenda Drake, Touching Fate: With a simple touch of the tarot cards, Aster can change a person's fate, but when she meets Reese, a hot Dutch guy cursed to die on his eighteenth birthday, saving him will come at a deadly price.
Brenda Drake, Thief of Lies: One jump into a gateway book linking the great libraries of world will lead Gia to love and secrets that change her forever. 
Pintip Dunn, Forget Tomorrow: In a world where memories can be sent back in time, seventeen-year-old Callie sees the unthinkable — a vision of her not-so-distant future self killing her little sister. 
Jennifer M. Eaton, Fire in the Winds: When the alien of her dreams crash lands his ship in the woods, time is ticking down to Armageddon, and Jess must think fast if she's to save him without sacrificing Earth—and everyone on it.
Clara Kensie, Aftermath: After surviving four years as a prisoner in the attic of her kidnapper sustained by dreams of her loving family, Charlotte fights her way to freedom only to discover that her family is broken and she can't be truly free until she frees the prisoner she left behind. 
Amy McNulty, Ballad of the Beanstalk: A prequel to the fairy tale Jack and the Beanstalk that reveals the true story behind the magical singing harp.
Sarah Nicolas, Keeping Her Secret: When Riya finds herself sharing a bunkhouse with her first girl-crush at summer camp, Courtney's need to keep up appearances initiates an all-out war between their feelings and what they think is expected of them.
K. M. Pyne, #Meet: Ruby Knight's best friend goes missing after behaving strangely. Her friend has been catfished on the internet and this sets off a detective style search for her friend. Mash up of Nancy Drew and Pretty Little Liars.
K. M. Pyne, #YOLO: Someone at Ruby Knight's school is out for revenge! Who is murdering students and what do they ultimately want?
Stephanie Scott, Alterations: After reinventing herself at a summer fashion camp in New York City, Amelia returns to Miami and finds herself caught between her life-long crush and his geeky twin brother.
Janet B. Taylor, Into the Dim: Hope Walton's insular world implodes when she learns she must travel to the brutal, 12th century age of Queen Eleanor of Aquitaine to save the mother she thought lost forever.
Janet B. Taylor, Sparks of Light (Advance Reader Copy): When Hope Walton and the rest of the Viators uncover a plan to steal a dangerous device from inventor Nikola Tesla, only a race through the Gilded Age of 1895 NYC can save the natural timeline from utter destruction. 
P. D. Workman, Questing for a Dream: Completely alone for the first time in her life, is it possible for Nadie to find happiness and peace in a foreign world where she is abused and discriminated against?
Excited to enter? Fill out the Rafflecopter at the top of the page. There's only one requirement, and that's joining the newsletter mailing list for each of the authors. It's one simple step, and you'll get early, special access to more great YA books, book news, author insider information, giveaways, and fun!