Compulsion for Southern Lit Giveaway from Deep South Magazine
Posted by admin on Oct 7, 2014 in Giveaways & Misc | Comments Off

on Compulsion for Southern Lit Giveaway from Deep South Magazine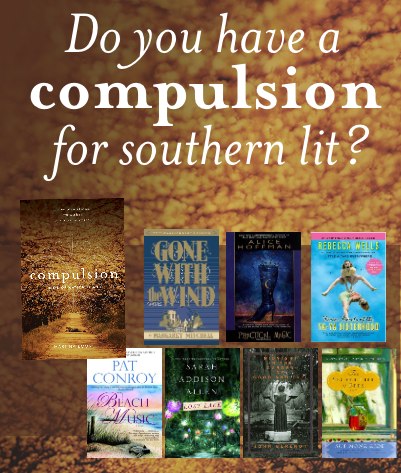 Love Southern fiction?
Deep South Magazine has the PERFECT giveaway for you!
Win seven wonderful books that all have something in common with Compulsion, a Fall '14 Okra Pick from the Southern Independent Booksellers Alliance, whether that's something within the story, within the history, or just a similarity in theme.
Fill out the Rafflecopter at the bottom of this page to win paperback copies of:  Gone with the Wind by Margaret Mitchell, Practical Magic by Alice Hoffman, The Divine Secrets of the Ya-Ya Sisterhood by Rebecca Wells, Beach Music by Pat Conroy, Lost Lake by Sarah Addison Allen, Midnight in the Garden of Good and Evil by John Berendt, The Secret Life of Bees by Sue Monk Kidd.
Three plantations. Two wishes. One ancient curse.
All her life, Barrie Watson has been a virtual prisoner in the house where she lives with her shut-in mother. When her mother dies, Barrie promises to put some mileage on her stiletto heels. But she finds a new kind of prison at her aunt's South Carolina plantation instead–a prison guarded by an ancient spirit who long ago cursed one of the three founding families of Watson Island and gave the others magical gifts that became compulsions.
Stuck with the ghosts of a generations-old feud and hunted by forces she cannot see, Barrie must find a way to break free of the family legacy. With the help of sun-kissed Eight Beaufort, who knows what Barrie wants before she knows herself, the last Watson heir starts to unravel her family's twisted secrets. What she finds is dangerous: a love she never expected, a river that turns to fire at midnight, a gorgeous cousin who isn't what she seems, and very real enemies who want both Eight and Barrie dead.
EARLY PRAISE
"Darkly romantic and steeped in Southern Gothic charm, you'll be compelled to get lost in the Heirs of Watson Island series." — #1 New York Times Bestselling Author Jennifer L. Armentrout
"A fresh twist on the Southern Gothic — haunting, atmospheric, and absorbing." — Claudia Gray, New York Times bestselling author of A THOUSAND PIECES OF YOU and the Evernight and Spellcaster series
"Compulsion is a stunningly magical debut with a delicious slow burn to be savored. I want to live in this story world!" — Wendy Higgins, USA Today and NYT bestselling author of the Sweet Evil Trilogy from HarperTeen
"A star-crossed romance, lush gothic plantations, and an island full of intrigue–COMPULSION was a heart-pounding race to the finish! A thrilling debut!" — Kimberly Derting, author of The Body Finder series
"Beautifully written, with vivid characters, a generations-old feud, and romance that leaps off the page, this Southern ghost story left me lingering over every word, and yet wanting to race to the compelling finish. Martina Boone's COMPULSION is not to be missed." — Megan Shepherd, Author of THE MADMAN'S DAUGHTER
"Martina Boone's COMPULSION is the perfect southern family saga, charming and steamy on the surface, with cold-blooded secrets buried down deep. What more do you want? More time to read it, that's what." — Kendare Blake, author of ANNA DRESSED IN BLOOD and ANTIGODESS
"A shivery, delicious Southern Gothic with feuding families, dark spirits, ancient curses… and caught up in the middle, a young girl learning to live and love for the first time. Atmospheric and suspenseful, Compulsion will draw you in and hold you until the very last page." — Leah Cypess, Author of DEATH SWORN
"Ancient spirits, mystery, and Southern charm–COMPULSION mixes dark magic with darker family secrets in a way that'll make you relieved there are two more books. I can't wait to continue reading about Barrie and the rest of Watson island!" — Kat Zhang, Author of WHAT'S LEFT OF ME

IndieBound | Barnes & Noble | Amazon | Book Depository (free worldwide shipping)